Re-Shoot Exhibition
Assalamualaikum dan Selamat Sejahtera kepada para pembaca. Sihat? Hope korang sihat dan baik baik saja. Penulis blog ini juga masih lagi sihat walfiat. Alhamdulillah!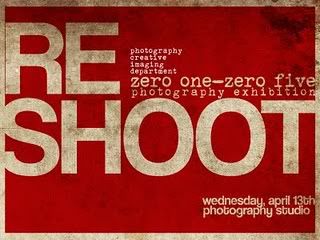 LET'S RE-SHOOT!
13 April 2011 | wednesday | Studio of Photography
Bercerita tentang Photography? Lupa nak share dengan korang semua yang 2 atau 3 minggu lepas. Department photography UiTM Melaka telah mengadakan satu exhibition bertempat di Studio Photography, UiTM Melaka. What's hot? Okay let me share with you guys!
Kebiasaannya, setiap hujung sem department photography akan mengadakan satu exhibition. Exhibition ini juga bertujuan untuk mengeratkan hubungan antara pelajar semester satu, dua, tiga, empat, lima dan enam selain daripada membuat pertunjukkan hasil karya setiap pelajar department dan juga sedikit aktiviti yang fun.
Sem lepas, exhibition dibuat di Fakulti Seni Lukis dan Seni Reka, UiTM Melaka dan ianya disambut dengan begitu baik sekali oleh pelbagai department seperti Industrial Design, Graphic Design and Fine Art. Ada juga segelintir daripada kursus lain yang juga turut hadir pada exhibition tersebut. Untuk sem ini, ianya dibuat di Studio Photography pada waktu malam. Mungkin ini hanya dapat sambutan daripada pelajar department sahaja since semua pelajar busy dengan kerja-kerja minggu akhir, but still. The exhibition was good (as people said).
Nak tengok apa yang jadi masa exhibition itu?
Jom tengok gambar di bawah ini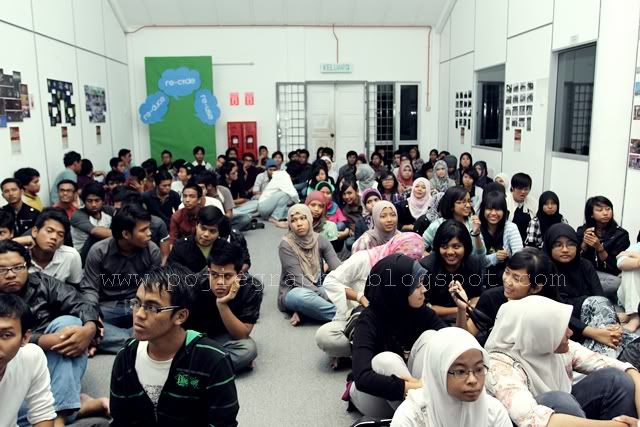 Semua pelajar department sedang menunggu kehadiran para lecturer dan juga menunggu exhibition bermula.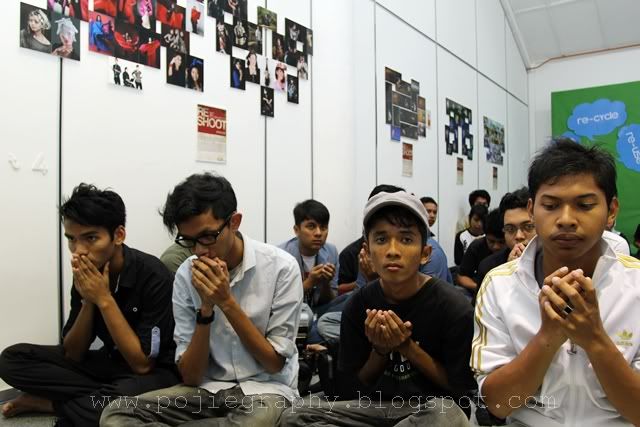 Bacaan doa dilakukan oleh semua pelajar lelaki.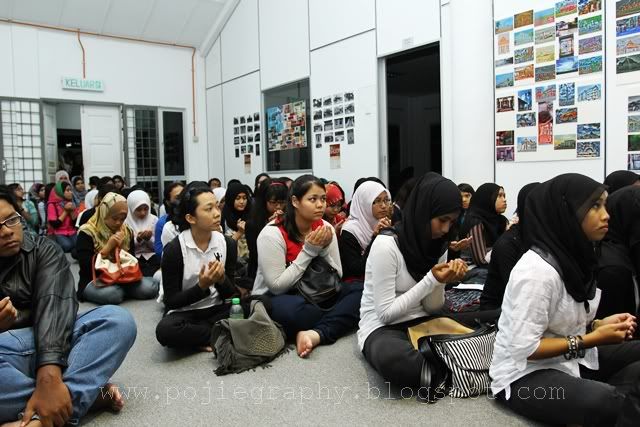 Bacaan doa dilakukan oleh semua pelajar perempuan.
pelbagai aktiviti dijalankan seperti pertunjukkan musik dan sebagainya.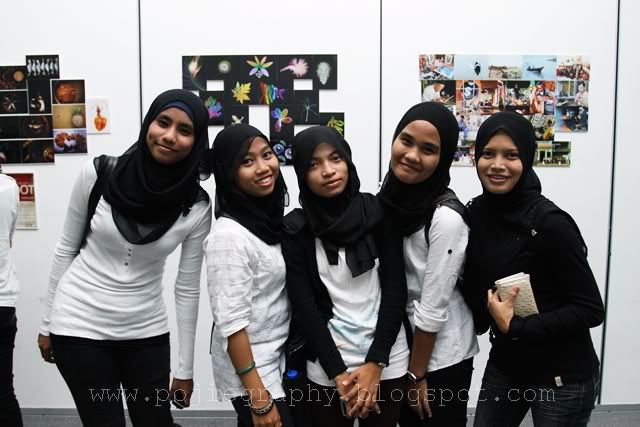 gambar daripada pelajar perempuan semester pertama 🙂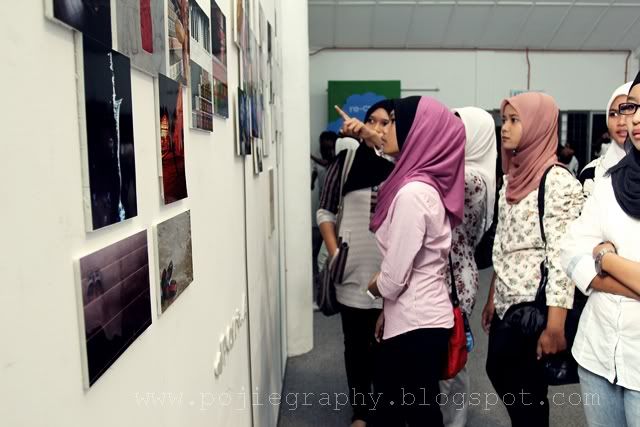 Looks! Thats my batch and classmate. Dorang semua tengah melihat hasil karya budak budak photography. Well said, the artworks was cool!
Barisan lecturer daripada department photography.
En Meor, En Nadzri, Puan Ayuni, Puan Nik, Puan Iza, dan juga Puan Farizah.
Pelajar Photography? Aah, tapi masa 3 atau 4 tahun lepas kot. Sekarang dah bergelar lecturer. Jangan ingat pelajar saja boleh buat memek muka seperti ini masa bergambar, lecturer pun nak juga. (Minta minta En Hanif x baca blog aku, kalau tak nanti kena tolak markah pulak)
Salah dua lecturer daripada department Photography, En Fakhrul lecturer yang mengajar bagi subjek Studio Lighting untuk kelas aku. Juga, En Meor.
Cukup? Mesti ada sesuatu yang tidak kena kan? Yeah, gambar aku tak ada langsung. Kena sabotaj? Bukan, aku tak dapat hadir ke exhibition ini kerana terdapat masalah tertentu. Segala kesulitan amatlah dikesali. Ish Ish. Cerita bagai nak raaak, rupanya tak datang pulak si pojiegraphy ni.
Habis tu gambar di atas siapa snap? Haa, credit to AMIR FSM
Thanks Amir!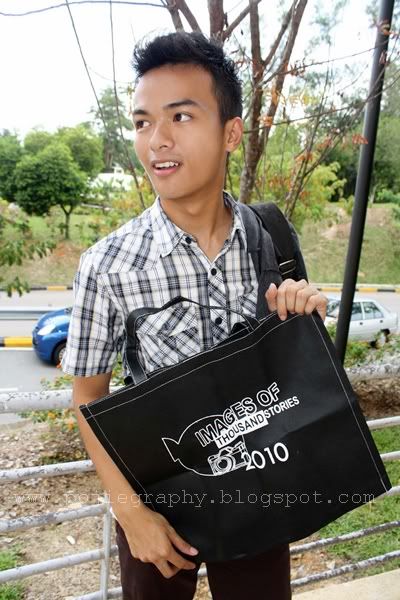 Disebabkan gambar aku tak ada bagi exhibition semester ini, gambar semester lepas pun jadilah.
Gambar dipetik daripada Exhibition Images Of Thousand Stories. Terlepas juga rindu, kalau ada la yang rindu.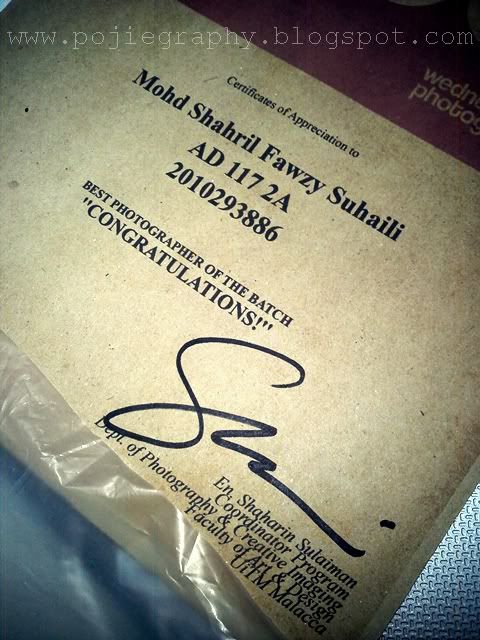 Tapi, syukur alhamdulillah. Walaupun tak dapat hadir exhibition itu, dapat jugalah something. Yeah, i was announced as The Best Photographer of the Batch (Semester Two).
Received a certificates from the Photography Department of UiTM Malacca. Thanks a lot!
Yang ini aku tak expect lansung. Tak terlintas dalam fikiran pun pasal ni, but everyone deserved this! Everyone got their own their talent, their skills and good techniques.
Once again, thanks to all!
Bawah ni antara feedback daripada budak budak department ;]

Amir was one of my batch mate, class B.

Nora Nadzri, she was the student of semester one. Thanks again, Nora.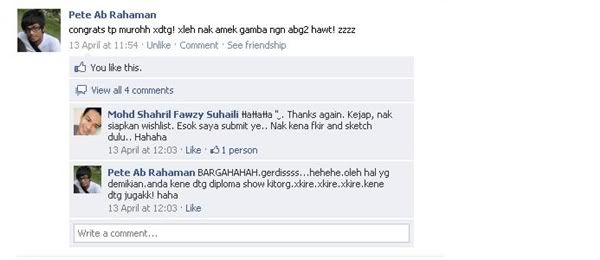 Pete, used to be my senior in the department. Student of semester six. Thanks buddy, good luck in your final semester!
Also the others, for the wish.
Haish, lega dan sedikit gembira dengan ini. This is the second achievement of me in this field (Photography). Hope i can be much better for the upcoming semester. Amin.
Ada rasa nak berada dalam bidang Photography?
Come and join us! 🙂
p/s : Mom and Dad, this is it! The efforts that i did 🙂
Readers, see you later for the next entry. Thanks for reading.
Regards, Pojiegraphy.
Wants my updates?